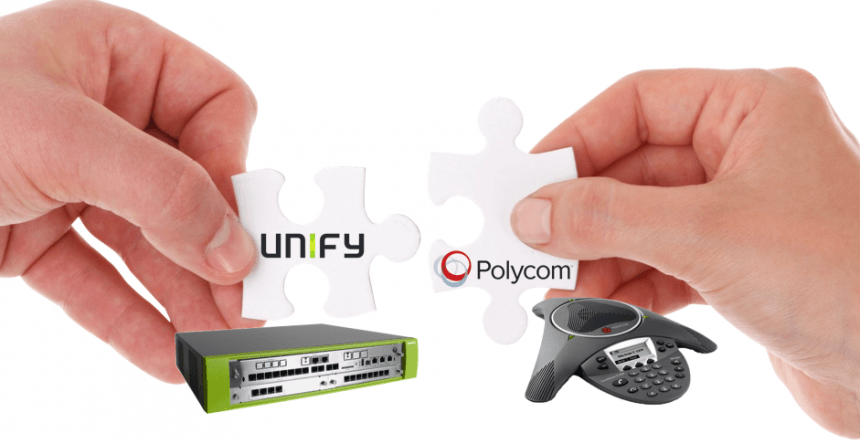 Polycom solution by Unify – Maximize your UC investment
Polycom solution by Unify – Maximize your UC investment
Polycom and Unify have partnered to maximize your UC investment to provide seamless collaboration, from desktop voice and video to boardroom immersive telepresence for the OpenScape solutions.
The native integration of Polycom voice and video solution with the Unify's platform offers:
Seamless integration– Polycom solutions offer unmatched levels of operability, flexibility, and investment protection
Scalability– Introduce a robust and scalable video and voice collaboration network under the Unify OpenScape platform
Improved productivity— Full communication experiences through Polycom solutions equip organizations to make swifter and more informed decisions
Completeness– Nexus IP is partner with both Unify and Polycom and we provide the first line of services and support
To meet up the conferencing needs from small businesses to large enterprises, Unify OpenScape have integrated Polycom voice solution into OpenScape Business and OpenScape Enterprise Express.
Unify OpenScape Business is designed to meet the specific challenges faced by small to medium-sized businesses that accommodate up to 500 users.
OpenScape Business is a complete, unified communications solution that covers all your communication needs, from one-click web conferencing to visual voicemail and from instant messaging to a multimedia contact centre. (read what Comms Trader review on here)
Unify Openscape Enterprise Express is designed for businesses with up to 100,000 users.
OpenScape Enterprise Express ends system integration complexity with pre-integrated applications like mobile collaboration, unified communications and Contact Easy collaboration means more efficient operations and more effective employees. (read what Comms Trader review on here)
Polycom SoundStation conference phones deliver the legendary voice quality, expansive microphone pickup, and advanced audio processing that makes conference calls seem as natural as being in the same room. (read what Comms Trader review on here)
Choosing your next communications solution is a major decision.
But it doesn't have to be a painful one.
Recent Posts
Subscribe to our Mailing List